Regular formation activities for men
Dunreath offers and organises regular formation activities for men.
These include monthly evenings of recollection and retreats.
We also organise seminars for fathers and husbands.
Evenings of recollection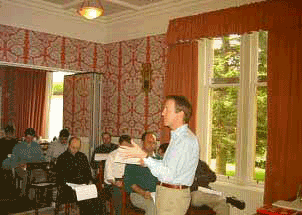 Monthly evenings of recollection are held in Dunreath on the first Monday of each month and the following Friday. We also organise monthly recollections in Edinburgh.
The monthly recollection is an opportunity to step back from one's daily work and occupations to reflect, in the presence of God, on how one is carrying out one's duties towards God, one's family and society.
Please contact info@dunreath.org.uk for details of recollections in Edinburgh.
Retreats

A retreat is a time spent away from your ordinary occupations, during which you can reflect on how you live your faith in your everyday work, family life and relationships with others. The atmosphere of personal prayer and recollection which is maintained throughout helps you to consider all aspects of your life and identify the areas in which you can improve.
Retreats preached by priest of Opus Dei are held in Hazelwood House in Glasgow, Wickenden Manor in Sussex and Thornycroft Hall in Cheshire.
Please contact info@dunreath.org.uk for more details